What a difference with the sides stitched on! I was excited back when I stitched the boat bottom but with the sides on, the Tango Skiff build is really a boat.
Sides Stitched to the Bottom
I've been enjoying the challenge of this being a solo effort. So the first thing was figuring out how I to get 17′ long side panels in place by myself. The 1/2″ thick plywood panels aren't particularly heavy but they are cumbersome especially in a small space. Lifting them as close as possible to their center of gravity was the first step. The next step was figuring out how to hold them in place while I stitched them on.
Fortunately, my Dewalt sawhorses came to the rescue. They have two important features. First, each leg is independently adjustable. Second, the top of each sawhorse has two notches which fit a 2×4. I adjusted the height and angle of each and used the notch to rest each side in. I placed the sawhorses in an arc relative to the bottom and added weights on each of their shelves. This way I had a nice bend that roughly followed the bottom edge while the weights resisted the panel's springiness. With a little jostling, I was able to balance the sides against the bottom and move to the stitching phase.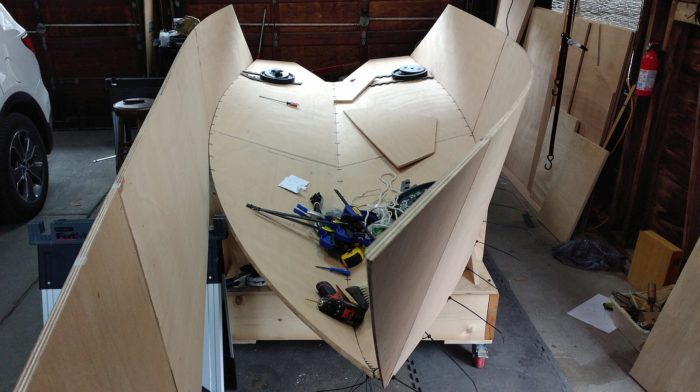 Starting at the back, I inserted zip ties into the predrilled holes on the side and bottom. Leaving them somewhat loose allowed for gradual adjustment toward their final height and position. Also, the plans call for creating a chine toward the bow by overlapping the side and bottom. Later, with the boat turned over, fill the gap with epoxy to create the chine.
Sure Looks Like a Boat
I suspect my friends and family have been humoring me up to this point. But with the sides stitched on, they no longer have to pretend on my account. Success!
Next stop… cut out the front and rear seats, bulkheads, and floorboard.