The boat flip is coming soon but before that I installed the rub rails. The Tango Skiff plans call for "rub rails" from the same marine plywood I've used to build the boat. As per Hank Bravo's plans, their main role is adding rigidity to the sides and so I glued these in place. They made a big difference and will help with flipping the boat.
Doubling Up on the Rub Rails – Oak, Rope or Both?
The problem is that plywood isn't the best choice for the role of keeping docks at bay. I'm concerned they're too soft for use on the tidal Hudson River. So, I have a few ideas involving oak or rope.
Option 1 – Bed and screw a sacrificial layer of white oak on each. White oak is strong and hard which are great attributes. However, its also heavy and I want to stay conscious of keeping the weight down on this small boat.
Option 2 – Use a rope as a rub rail. I've most often seen three strand rope used and there are a few ways to install it. For example, I could install it under the plywood rub rail. This would protect the underside of the plywood rub rail from getting hung up and bashed on docks. To protect the sides of the rub rails, I'd need rope substantially thicker than the rail itself. The picture shows a test with 3/4″ rope but I think a minimum of 1″ would be a better choice.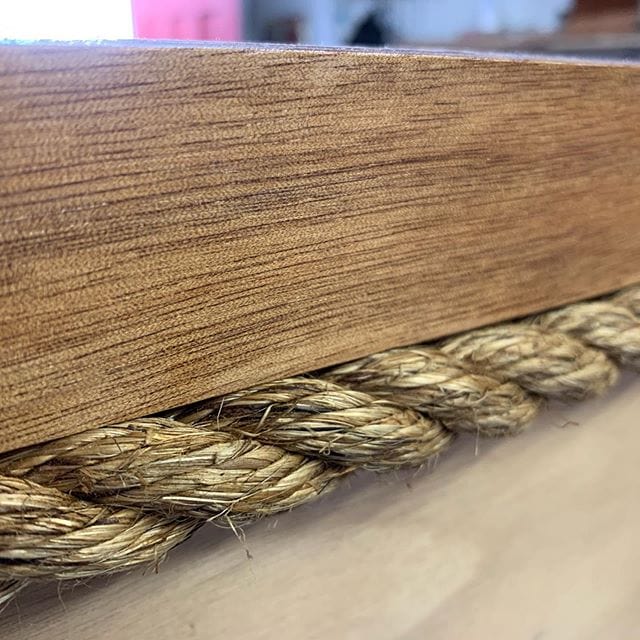 Option 3 – Use a combination of the first and second options using a bedded and screwed sacrificial layer with a cove to fit the rope.
Of the three, I'm leaning toward rope under the existing plywood rub rail. It's cheap, easy, light and protects the underside of the rub rail if it should hang up. Fenders should do the rest.
Incidentally, I've been looking at the Mission Boat Gear Sentry Boat Dock Fender Bumper. They're very sleek, highly adjustable but admittedly pricey.
A cheaper alternative would be the Extreme Max BoatTector Contour Fender. Because of the hinge, these protect both the gunwale and the sides.